Tours are currently available of City Hall, Tweed Courthouse, and Gracie Mansion. For more information on City Hall or Tweed Courthouse tours or to volunteer, please call (212) 788-2656. For Gracie Mansion, please call (212) 570-4773 or e-mail GracieTours@cityhall.nyc.gov.
City Hall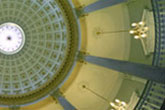 One of the oldest continuously used City Halls in the nation that still houses its original governmental functions, New York's City Hall is considered one of the finest architectural achievements of its period. Constructed from 1803 to 1812, the building was an early expression of the City's cosmopolitanism. City Hall is a designated New York City landmark, and its rotunda is a designated interior landmark as well.


Learn more
Tweed Courthouse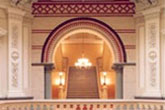 The Old New York County Courthouse, better known as Tweed Courthouse, is architecturally one of New York's greatest civic monuments. Built between 1861 and 1881, it is the product of two of New York's most prominent 19th-century architects, John Kellum and Leopold Eidlitz. Today, Tweed Courthouse is home to the Department of Education.


Learn more
Gracie Mansion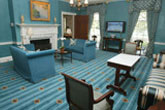 In 1799, a prosperous New York merchant named Archibald Gracie built a country house overlooking a bend in the East River, five miles north of the City. Financial failure forced Gracie to sell his house to Joseph Foulke in 1823, and in 1857, the house came into the possession of Noah Wheaton. The City of New York appropriated the estate in 1896, incorporating its 11 acres of grounds into the newly-formed Carl Schurz Park.


Learn more
Volunteer to Become a Docent
The Public Design Commission of the City of New York initiated a volunteer docent tour program of New York City's historic City Hall and Tweed Courthouse with the intent of increasing public access to and knowledge of both buildings.


Find out how you can volunteer